Record reviews, really ?
Well, despite an abundance of blogs and online opinion in our world of miasmic interconnectedness I thought I'd add my voice to the cacophany.
Because if I can shine a light on some of the stuff that really is worth your time (and money !) then it's well worth doing.
NINA KRAVIZ - CHOICES (VICTOR ROSADO 3RD STREET MIX)
A series of three 12's where the former Paradise Garage resident kidnaps some tracks from Nina's recent Rekids long player and buries 'em deep in NYC. Mostly raw, spacious soundsystem reworks (and I'm not talking Function One) they're all three worth a look.The most successful interpretation is based on the breaks and bass elements of Yello's 'Bostich' however.
JOHN HECKLE - DOCTOR CATZ - TABERNACLE
After some eminently raw, overdriven yet simultaneously melodic outings on Mathematics, which you should certainly check, we get another away game for Germany's Tabernacle label. Mr Heckle's live sounding machine jams are the absolute antithesis to the over processed and flatulent Beatport fodder we're often subjected to and although some meander and take more experimental routes, there's always at least one cut that's a guaranteed dancefloor destroyer.
Step up 'Doctor Catz', so authentically executed it sounds exactly like one of those bare faced European electronic workouts, which occasionally emerged from the mix on Ron Hardy tapes, a simple and superbly executed paean to Chicago's formative blueprint.
J KRIV & THE DISCO MACHINE - MAKE IT HOT (IDJUT BOYS REMIXES) - FILE UNDER DISCO
The recently minted F.U.D label debuted with a sterling effort from Drop Out Orchestra with the ever-essential Ron Basejam on the mix. Here they've enlisted UK Disco royalty The Idjut Boys to take on 'Make It Hot' and much like their superb recent Night Fever remix for The Visitors, the boys are seriously on form. A straight up, expertly dubbed out main mix drives along on a textbook disco bass progression and builds beautifully along the lines of a lost West End Records or Easy Street dub mix, all loose and live percussion & deft, tripped out melodies. Their 'Make It Acid' mix though, good grief!
A twisted up version, all ping pong percussion, disembodied vox and a ripping acid line that just goes and goes. Destruction in the dance!
LISTEN & BUY SOON
FIEDEL - FERRO - FIEDELONE
Best known for some incendiary moments alongside Errorsmith (check the hard to beat and face-meltingly good 'Donna' on MMM from '97). Here we get Fiedel flying solo and concocting a duo of cuts, which are simplistic, but stylish and stinking all at once. Stripped to the bone riff-outs somewhere between Dance Mania and Caribou. Timeless warehouse tackle that shreds all challengers.
CABIN FEVER TRAX - VOL. 29 - REKIDS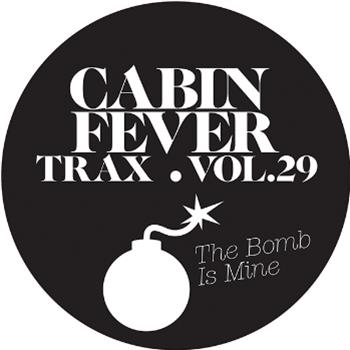 More no nonsense Trackwerk for those 'in the thick of it' moments from Cabin Fever.
'The Bomb Is Mine' takes the same 'Street Player' loop made so globally famous by Kenny Dope's Bucketheads cut and loops it to within an inch of it's recognizable life, adds some groove enhancing dubbed out vox snippets and watches while all hell breaks loose.
'For Spencer' on the flip works off another familiar earworm bass line (Gypsymen's 'Hear The Music'), throwing some submerged stabs and a firm rhythm track into the rave cauldron.
OUTBOXX - ASTROGIRL - IMMERSE
Outboxx return after their excellent 12! on the BRSTL label (check that one too).
Laying down pretty classic sounding House music, but with a very welcome and British (Bristol) twist. Like Bashmore doing a piano tune, Astrogirl reminded me a lot of Freil's 'West Of Montebe' albeit an updated bass heavy rewire.

Beautifully executed and uplifting in the extreme!
POSTHUMAN - IN APOPHENIA - HORN WAX
As the cold nights draw in, so we humans seek warmth and distraction indoors.
This, the fourth release on Tuskwax's Hornwax sub label is the kind of mid-tempo, crisply rendered filth fest that is often to be found rattling speaker cabs at Weatherall & Johnston's A.L.F.O.S nights.
A 12-minute electronic chugger that expertly builds into an utterly absorbing ride that's quite the winter warmer.
BUT, WHAT IF I HAVEN'T GOT A RECORD PLAYER ?
THE DRAUGHTSMAN - CODICIL (ROMAN FLÜGEL REMIX) - MARKETING MUSIC
Where consistently proven solo half of Acid Jesus turns up the heat, and hatches a devious sonic plot to render you helpless
in the face of precision 909ery. A simple clanking riff, atmospheric ear candy and a discordant Synth breakdown that could quite easily take your trousers clean off.
WALKER BARNARD - SWEATSHOP SPACESHIP feat JAIME GRAHAM (INXEC REMIX) - SERIALISM
Inxec is generally someone you don't want to take your ear off for too long, such is his hit rate in the digital realm. Here he transforms a strutting, overly complex track into a far more spacious affair, lifting the vocal to where it should be in the mix and sending it on its way with a gang of crushed balloon synths, bent on hypnotizing their all too pliable victims.
Reviewed by Chris Duckenfield