With over 2 decade's experience, Chris Duckenfield is not only a great DJ but also a true underground music luminary.
So, trust him!
INNERSPACE HALFLIFE - POST INDUSTRIAL EP (LATENCY)
Hakim Murphy & Ike's Innerspace Halflife project returns to new label Latency. So far, so Techno you may mumble through a stifled yawn, but take a closer look at the previous output from this duo and you'll find some serious cuts, prepared with pretty orthodox ingredients admittedly, but pulled off with aplomb.
This EP leads with Edo Tensel, trapped in hyperspace somewhere between UK electronica heroes like B12 or Insync & lo slung Theo Parrish / Soulphiction style House, all 11 glorious minutes of it. Elsewhere the subtly distorted and no less emotive Crown Vic & Sink Monster steer a similarly pleasing analogue course through pulp Sci-Fi sonics. You get some free paper stuffs in there too, but they don't sound anywhere near as good as the music.
BUY HERE
FRAK - TRIFFID GOSSIP (KONTRAMUZIK)
Where Jan Svensson makes a return to the fray after labouring away for literally years, releasing his often-menacing array of analogue emissions through Swedish label Børft, on cassette, mainly, like a pickled herring stuffed Ege Bam Yasi. Prolific and adept at conjuring all manner of lo-fi additions to his astonishing, and deeply obscure catalogue.
Fast forward to the early 21st century and the machines have blinked and juddered back to life, spewing out a magnificently sui generis, spare and dangerous selection of cuts for Kontramuzik, the beloved Borft & the über cool Sex Tags Mania. Check 'em all out, especially '777' on the Deep Twist EP, and the whole of this 12 too, it's like someone amplified robo-cop's indigestion.
LISTEN & BUY HERE
FATDOG - REMEMBER (FATDOG)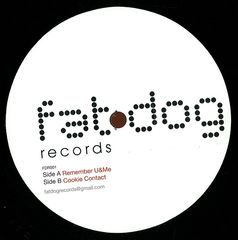 Former record store owning, party throwing UK crew put out a record. It's a familiar tale, but rarely is the music this damn good. Looks like Benji B has the ear and keen good sense to champion the cause, but not many others it seems.
The title track is a sparsely vocaled, immersive and utterly addictive slice of modern Soul. The rest of the EP thrives on this simple diet of emotive pads, crunching pared down rhythms, deep subs and deftly applied use of mood and vocal. If this came out on KDJ, people would lose their shit entirely. Don't be misled.
LEVON VINCENT - NOVEL SOUND 08

Almost pointless reviewing this as it's the most blatant case of preaching to the choir, but what the hell. A new Novel Sound release always inspires much record enthusiast fervor, which I kinda like. Levon meanwhile just stands there staring you down and thinking up new, devilishly simple but oh so effective sound system wrecking riff tracks, drenched in atmosphere and assembled with such an efficiency of ingredient use, they're the equivalent of nose to tail eating Techno. Four elements kids, four – sounding a whole lot fucking better than your fifteen.

LISTEN AND PREORDER HERE
THE RHYTHM ODYSSEY & DR DUNKS - FOX (GOLF CHANNEL)
Expert synth botherer and user of production pseudonyms, Andy 'Chicken Lips' Meecham, teams up with Rub N' Tugger Dr 'Eric Duncan' Dunks for an afternoon with a very happy ending. It's Disco then, but drawn with things you plug in, rather than things you play.
Treated brass rises introduce rib rattling bass sequences and piano and clavinet flourishes on the original mix, whereas Detroit clanks, vintage drum machinery and a more widescreen approach underpin the 'version' on the flip, as it evolves into a string laced and entirely absorbing whole. The screamy diva preps you for the grand finale, which makes you realize the track so far has been nothing but a slow rollercoaster ascent to an exhilarating arpeggiated payoff, leaving you wind swept and pleasingly altered.
LISTEN AND BUY HERE
INKSWEL & FREEKWENCY - SECRET HEAT (HOT SHOT)
Split 7" that's so eighties it may as well slink into the neon lit bar in a pastel linen suit. Throwback aside, it's an absolute stunner.
The Australian element here (Inkswel) channels the antipodean sunshine on the superb Reggie B voxed 'So Over It' an irresistible boogie workout that fans of the PPU label and Dam Funk will just eat up. Freekwency offer up a decidedly more UK Street Soul approach, featuring Molly D on vocals, some shimmering synth, a Loose Endsy 808 poke and a 'ten to two' last chance to pull bass drop.
LUISINE - ANOTHER TOMORROW (GHOSTLY)
I get in lots of stranger's cars, always have. It goes with the job, I'll tell you something for free though, lots of them have Lusine albums in them, lots. And why wouldn't you? Ranging from effortlessly engaging electronic pop to beguiling, synthetic delicacies, it's an easy in for a late check out classic.
Here those themes are explored again, expertly manipulated synths hug the ears, while sparingly deployed rhythms and low end carry the vacant vocal to the inevitable worm in your ear destination. Jon Convex offers up an android skeleton groove, with vocodered vocals and cycling synth top lines.